Publications
To order online, select the "Add to Cart" button below. To order by check, please scroll to the bottom of the page. Wholesale accounts please contact: Tissot@snowyowlpress.com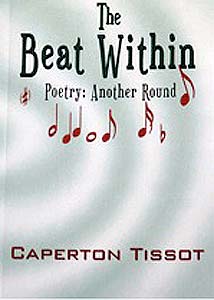 The Beat Within; Poetry, Another Round
by Caperton Tissot
Hidden motifs. Listening to the undertones, Tissot notes social impacts on the rhythm of time and place. Free verse sings with free thought – at times serious, other times lighthearted, sometimes irreverent.
Reviews
A charming visit to life in the country, a wistful recollection of times past, and exciting adventures galore! This book is the perfect mixture of nostalgia and fresh air. Best read outside, where you can hear the birds singing.
Catherine Stone, EmberstoFlames Editing
Through the pages of this book, one finds it easy to experience personally the special world that is Caperton Tissot's, for she has the ability to picture it for us so vividly with her words. In this new anthology of her original poetry, we travel with her on a journey spanning her lifetime of observing and being deeply moved by the places she's been and the people she's met along the way. And we learn, through her own way of looking at life and the world, just how very much there is to notice as we go.
Nadine McLaughlin, Graphics North
Printed version, $14.95. To order, please click on the "Add to Cart" button to be taken to the printed and Kindle versions at Amazon.com. Wholesale Accounts Please contact: Tissot@snowyowlpress.com
ISBN #978-0-692-80759-0
---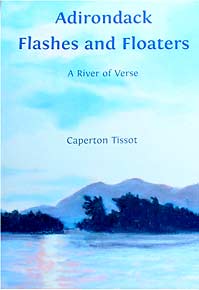 Adirondack Flashes and Floaters, A River of Verse
by Caperton Tissot
A book of verse humming with soul storms, longings, and laughter... From Adirondack nature to human nature, work to play, youth to old age, whatever their interests, readers will find something here to enrich the moment.
Reviews
Writing in such a deeply personal, open-hearted way was a courageous act for Caperton Tissot, and the foundation of genuine humility and compassion from which that courage rises, makes these poems deeply stirring. Bravo!"
Edward Kanze, author/naturalist/photographer/Adirondack guide
"Caperton Tissot invites us to her own neck of the woods in Adirondack Flashes and Floaters and shares her deepest feelings. Immersed in her verse, I ride the rhythms of mountain life, its triumphs and challenges, and reflect on my own feelings for this special place. Once again, I'm called to the wild of the Adirondack Park with Caperton's Flashes and Floaters."
Andy Flynn, author/publisher, Hungry Bear Publishing
Printed version, $14.95. To order, please click on the "Add to Cart" button to be taken to the printed and Kindle versions at Amazon.com. Wholesale Accounts Please contact: Tissot@snowyowlpress.com
ISBN #978-0-615-98927-3
---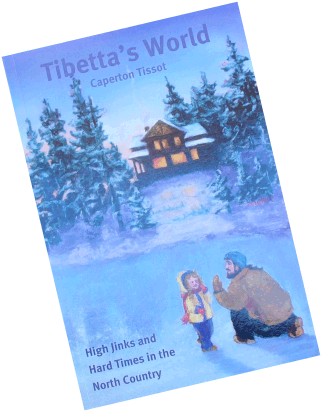 Tibetta's World High Jinks and Hard Times in the North Country
by Caperton Tissot
The story of the child Tibetta, her parents, family and friends is a story of self-discovery and transformation. In the ebb and flow of daily adventures, affection and humor tackle conflict, while a pet woodrat lends a touch of magic with his caustic philosophical commentary.
Reviews
"Tibetta's World honors the vitality and mutual support of the local community that so ably serves the Adirondack Great Camps. As one who has witnessed those camps from both sides — as a visitor and as an employee — I can attest to the fact that Ms. Tissot has captured perfectly the world of these fine folks, who live out their too often marginal lives almost entirely behind the scenes." Gerry Rising, Buffalo News "Nature Watch" columnist
"Caperton Tissot knows the geography and people of the Adirondacks. Icons of mountain culture—great camps and hunting clubs, wealthy seasonal visitors and year-round working people—come to life because Caperton has a keen eye, warm voice and reminds us that telling a good story is at the heart of Adirondack history." Ellen Rocco, Station Manager, North Country Public Radio.
Printed version, $16.95. To order, please click on the "Add to Cart" button to be taken to the printed and Kindle versions at Amazon.com. Wholesale Accounts Please contact: Tissot@snowyowlpress.com
ISBN # 978-0-615-66898-7
---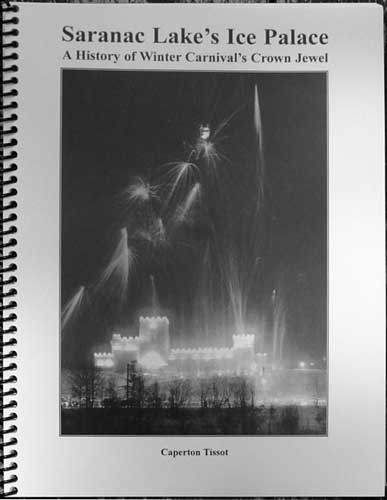 Saranac Lake's Ice Palace
a History of Winter Carnival's Crown Jewel
Sponsored by members of the local community, this 54-page booklet contains extensive text plus forty-five, black- and-white historic and contemporary photographs. In a carefully researched and at times humo/ous account, answers are provided to questions about the when, why, where and how of Saranac Lake's Crown Jewel of Winter Carnival. A portion of this booklet appeared previously as a chapter in Adirondack Ice.
All proceeds benefit the Saranac Lake Winter Carnival Ice Palace fund.
Printed version, $11.95. Please order directly from Snowy Owl Press. See form below to pay by check.
---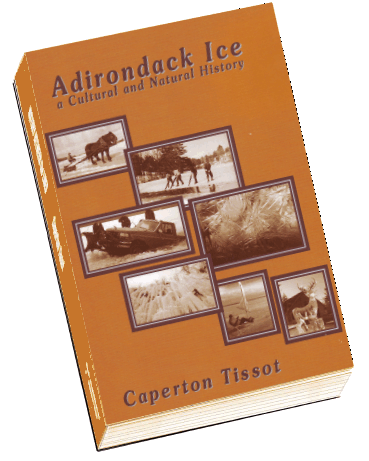 Adirondack Ice: a Cultural and Natural History
by Caperton Tissot
Ice has determined the course of Adirondack history in many surprising ways. This book traces the evolution of that influence, touching on everything from ice industries and transportation to recreation and accidents. In 360 pages of personal stories, observations and over 200 historic and contemporary photos, the author pays tribute to a fast disappearing era.
Reviews
"This book, providing a relatively unknown history of ice in the region, is very thought provoking. It describes the cultural relationships over the years and ends with a discussion of climate change and how this will reshape ice and associated activities in the future."
Elizabeth M. Lowe,
Region 5 Director, NYS Department of Environmental Conservation
Founder of the Natural History Museum of the Adirondacks, "The Wild Center."
"My favorite moment each year is when winter takes control and friction loses its grip--when all of a sudden even the ungainly among us acquire a kind of grace as we skim across the world. This book captures every element of that moment, in the most beautiful place in the world. I hope only that those who read it will rise to the defense of winter, so that we can keep the great warming at bay and preserve these scenes for centuries to come."
Bill McKibben,
Author, environmental activist and resident scholar at Middlebury College
"In Adirondack Ice, a Cultural and Natural History, author Caperton Tissot illuminates the history of our relationship with a defining element of winter. Valued and reviled, ice is an unavoidable fact of life in the Adirondack Mountains. As Tissot points out, it has 'substantially determined the natural, economic, and cultural history of the North Country, yet it is an often overlooked and underappreciated influence'. Filled with surprises, Adirondack Ice is a fascinating look at the many ways ice touches our lives in the Adirondack Mountains."
Laura Rice,
Chief Curator, The Adirondack Museum, Blue Mountain Lake
Printed version, $24.95. To order, please click on the "Add to Cart" button to be taken to the printed and Kindle versions at Amazon.com. Wholesale Accounts Please contact: Tissot@snowyowlpress.com
ISBN # 978-0-615-38993-6
---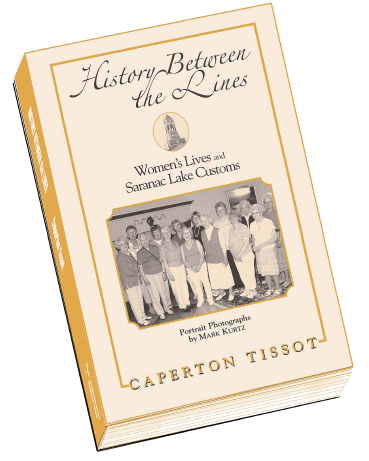 History Between the Lines, Women's Lives and Saranac Lake Customs
Second Edition
Authored by Caperton Tissot, edited by Willem Tissot and published by Graphics North, this book traces Saranac Lake's spirit of goodwill from mid-nineteenth century to the present. Sixteen individual stories, based on interviews, illustrate the important role women play in carrying on traditions that define the unusual character of a small mountain village.
Both researched and anecdotal history, inserted in italicized paragraphs, fill out the history and place the stories in context. Footnotes, a bibliography and index provide follow-up information for the researcher.
In the final chapter, Caperton shares her experience in researching, organizing and writing this book. She gives step-by-step "how-to" tips and encourages others to undertake similar projects in their own communities.
A full set of portrait photographs by Mark Kurtz, as well as thirty more personal and archived photos, round out the text.
Reviews
"If you want to know how passion and perseverance keep a town not only afloat but sailing into the future with a strong sense of its past, you'll find the answers on these pages. The remarkable lesson of the women Ms. Tissot portrays is that they did not come from great power and high privilege, but they turned the power of their character to the task of making our lives as a community more than a little richer. In reading these stories, our lives as individuals become richer, as well."
Philip L. Gallos,
Author of Cure Cottages of Saranac Lake: Architecture and History of a Pioneer Health Resort.
"Saranac Lake is that rare place in modern America, a living breathing small town. Caperton Tissot's oral history teases out the threads that make up that tapestry, weaving the personal stories of some very unique women with fascinating bits of historical context. This isn't just the story of one small town, but the story of how small, quiet contributions make all communities richer. The book is also a great model for other local and oral history projects."
Brian Mann,
Adirondack Bureau Chief, North Country Public Radio.
"Caperton Tissot has demonstrated the important role community scholars can play in documentation of local history. Her profile of one group of women provides a path to follow in trying to understand local culture. Her tips for would-be historians remind us that there are plenty of other stories to record for posterity."
Jill Breit,
Program Director, Traditional Arts in Upstate New York (TAUNY).
"...a fascinating undertaking, one I think will generate considerable interest in and around Saranac Lake."
Thomas Dublin,
Professor of History and Co-director for the Historical Study of Women & Gender, State University of New York at Binghamton.
"Oral histories are one way of capturing the essence and personality of an era... (Tissot) successfully captures the social history of a small Adirondack community in the mid-twentieth century. A rich history of the Adirondack region and park exists; however, it is filled with great men and landscape. Tissot provides the much-needed answer to the question "What about the women?" Through oral interviews and other primary sources she recreates an era of Saranac Lake history that has not been well recorded."
Carli Schiffner,
PhD, Professor of History, State University of New York, Canton
Printed version, $22.95. To order, please click on the "Add to Cart" button to be taken to the printed and Kindle versions at Amazon.com. Wholesale Accounts Please contact: Tissot@snowyowlpress.com
ISBN # 978-0-615-49710-5
---
To Purchase Publications By Check
Adirondack Ice: a Cultural and Natural History 2010
ISBN # 978-0-615-38993-6
$24.95
History Between the Lines, Women's Lives and Saranac Lake Customs 2007
ISBN # 978-0-615-49710-5
Second Edition
$22.95
Saranac Lake's Ice Palace, a History of Winter Carnival's Crown Jewel 2012 (booklet)
ISBN #978-0-615-61961-3
$11.95
Tibetta's World; High Jinks and Hard Times in the North Country
ISBN #978-0-615-61961-3
$16.95
Adirondack Flashes and Floaters, A River of Verse
ISBN 978-0-615-98927-3
$14.95
The Beat Within; Poetry, Another Round
ISBN 978-0-692-80759-0
$14.95
Please send checks to:
Snowy Owl Press
PO Box 303
Saranac Lake, NY 12983

Residents outside of New York State: booklet $1.50/book $3.50
New York State Residents:
S & H booklet, $1.50 each.
S & H books, $3.50 each.
N.Y.S, residents add 8 % sales tax